While planning your wedding, you are going to have to make many decisions, one of which is choosing what season you'll get married in. While there is no right or wrong time of year to get married, there are some factors that you may want to consider when choosing the best time of year to get married in Colorado for you and your partner.
While each season has its unique considerations, one factor often overlooked is the role of sunset on your wedding day. The changing position of the sun, setting further north during summer, further south during winter, and directly west during the spring and autumn equinoxes, may seem like a nerdy detail. But it, along with the timing of sunset, can significantly influence the flow of your actual wedding day.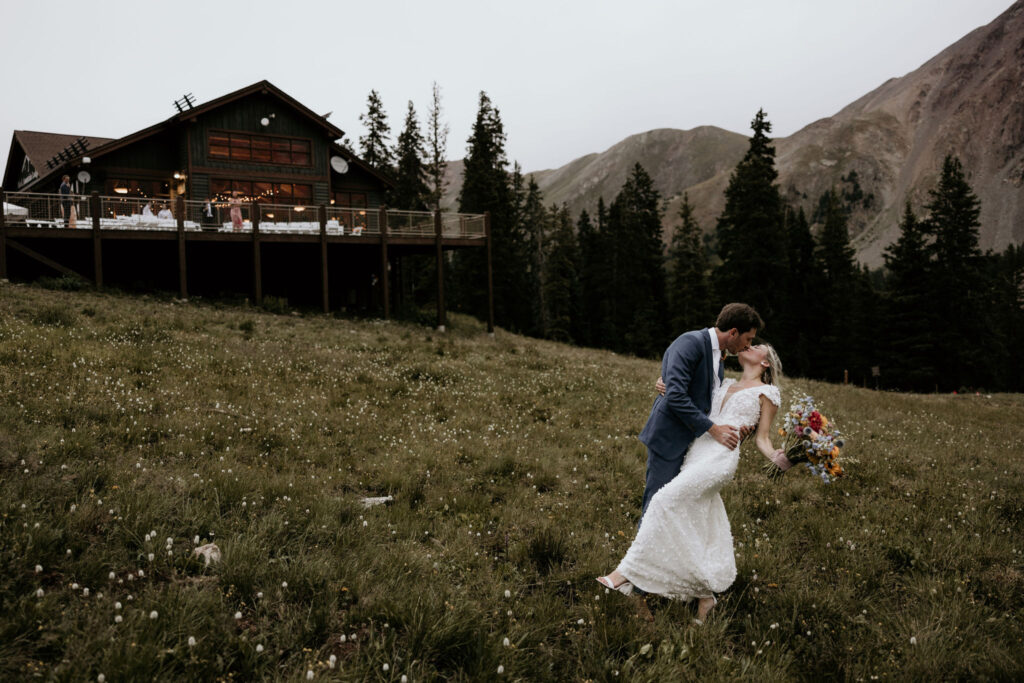 Colorado Sunsets and Wedding Timelines
For instance, the sunset on June 1 in Denver, Colorado is at approximately 8:30 PM, while the sunset on October 15 is at approximately 6:15 PM. If you are thinking about a December wedding, the sun may start to set as early as 4:45 PM. While this shouldn't hinder you from choosing any certain season in which to wed, it will help you to be a step ahead when it comes to planning your wedding day timeline.
In the case of a June wedding, you'll have the opportunity to enjoy all your reception festivities – the grand entrance, those unforgettable first dances, heartwarming toasts, the delightful cake cutting, and a delicious dinner. Afterward, it's the perfect moment to steal away for some stunning sunset portraits.
Now, let's contrast that with an October 15 wedding. Because of the earlier sunset, you'll head out for those dreamy sunset shots shortly after saying 'I do' during the ceremony. But here's the thing, it's not a downside at all. In fact, the early sunset may create an extra festive reception atmosphere after dark.
It's a curious thing; when the sun's still shining, folks often take their time getting onto the dance floor. So, if a jam-packed, lively dance floor is high on your wish list, you might find a late reception or a late-season wedding better suited to keep the party going well into the night.
Having explored the quirks of each season's sunset, let's dive into the intricate details of what each season brings to your wedding day.
Early Summer Weddings in Colorado
Early summer weddings in Colorado are my favorite for a multitude of reasons, so I'll start there first.
Early summer, which spans from late May through June, is when the landscape comes alive here in Colorado. The recent snowmelt waters the waking flora, turning the landscape into a lush natural masterpiece. The streams are full, the chance of rain is low, the landscape is lush, and the wildflowers are in full bloom.
Temperatures? Mild and just right, keeping everyone comfortable. And the risk of snow is pretty nonexistent after May. But what truly sets early summer apart are the long days that seem to stretch on forever, filling your celebration with an endless sense of energy.
Early Summer Wedding Venues in Colorado
When it comes to early summer weddings and micro weddings in Colorado, the foothills welcome you with open arms. While practically all venues shine during this season, a few of my favorites include The Farmette & River Bend in charming Lyons, Colorado, and the scenic Spires Ranch near Buffalo Creek, Colorado. You should also consider the iconic Red Rocks Trading Post in Morrison, Colorado, and the tranquil Rist Canyon Inn in picturesque Fort Collins, Colorado.
Alternatively, this is the perfect time to opt for a more laid-back elopement at some of Colorado's most magical spots. Saying 'I do' amidst the striking red rock formations of Garden of the Gods in Colorado Springs with Pikes Peak in the distance is an absolutely unforgettable experience. What about the vast panoramic views from Sunrise Amphitheater in Boulder, or, once again, the famed charm of Red Rocks near Morrison? These places create dreamy backdrops for couples looking to celebrate their love as their truest selves, right in the heart of Colorado's natural beauty.
Late Summer Weddings in Colorado
Late summer, typically encompassing July and August, brings its own unique appeal despite the heat. Late summer is when the abundance of fresh fruits and vegetables thrives, providing a colorful array of options to enhance your celebration. Plus, you'll find a vibrant variety of flowers available during this season to elevate your floral arrangements.
As the summer heat intensifies, it's a good time to seek out crisp mountain air with a high-altitude destination wedding. Late summer weddings naturally gravitate toward higher-elevation locations for their refreshing and cooler temperatures.
Late Summer Wedding Venues in Colorado
Late summer also offers some fantastic options for wedding venues. Personally, one of my top picks is the Black Mountain Lodge at Arapahoe Basin. You can say your vows in front of the wildflowers that are in full bloom throughout the field while the summer alpenglow casts a warm, beautiful light over the scene.
For those willing to travel a bit further, consider heading to the Western Slope. I'm a big fan of La Joya Dulce in Steamboat Springs for an elegant Colorado ranch wedding. However, I must emphasize that anything in Telluride is an absolute must.
Take, for example, Mountain Lodge Telluride– an ideal venue for weddings, micro weddings, and elopements. With gorgeous mountain views and various on-site locations to exchange vows, it's an excellent choice. Other fabulous gems to consider for your Telluride wedding venue are the San Sophia Overlook, Lumière Hotel, Allred's Restaurant, and the one-of-a-kind Alta Lakes Observatory, each with its own charm and atmosphere.
If you're contemplating a more intimate or adventurous late summer elopement, consider scenic spots like Sapphire Point near Dillon, St. Mary's Glacier in Idaho Springs, and Loveland Pass Lake. For those yearning for a Telluride elopement, there are phenomenal options like Last Dollar Road, Alta Lakes, and the breathtaking yet accessible, Bridal Veil Falls.
These high-altitude locations offer a comfortable and picturesque elopement experience, thanks to their cooling proximity to pristine mountain water, making them the perfect choice for late summer celebrations.
Fall Weddings in Colorado
Fall in Colorado, typically extending through September and October, is pure magic for weddings. The weather turns pleasantly cool, providing a comfortable atmosphere. And the color palette shifts to rich, warm tones, adding rustic charm to your decor.
What makes this season truly remarkable, though, is the transformation of the aspen leaves. Their golden leaves contrast beautifully with the evergreens, setting a breathtaking scene for your celebration. Colorado's fall season offers a backdrop as memorable as your love story.
Fall Wedding Venues in Colorado
Fall weddings in Colorado call for the breathtaking beauty of aspen-filled landscapes at your wedding venue. One of the prime destinations during this season is Estes Park, where changing aspens paint the mountainsides gold. Here, you'll find exceptional venues like Black Canyon Inn, SkyView at Fall River Village, and Della Terra Mountain Chateau. Each of these wedding venues possesses a distinct allure, surrounded by the stunning aspen-covered mountains.
For a more upscale experience, consider The Little Nell in Aspen, a luxury resort with unmatched mountain views. Alternatively, if you're looking for a rustic yet elegant atmosphere, The Barn at Sunset Ranch in Buena Vista provides a warm, welcoming setting amidst the aspen-painted scenery.
If you're considering a cozy fall elopement, few places can rival Rocky Mountain National Park. Within the park's vast landscape, you'll discover a dozen jaw-dropping locations to exchange your vows amidst the autumn foliage, like Hidden Valley or 3M Curve. Just keep in mind that special use permits are required for ceremonies and wedding portraits within the park, but I'm here to assist with all the necessary logistics.
Winter Weddings in Colorado
Winter in Colorado offers a unique backdrop for those looking to wed in the chillier months from November to February.
While it may be cold with the possibility of snow and ice, the snowy landscapes and the serene quiet make for a picturesque and calm setting. It's also a less competitive season for wedding planning, with most wedding vendors having increased availability.
However, remember that the sun sets earlier in winter, especially in November, December, and January. Consider scheduling your ceremony during the warmest part of the day, typically early to mid-afternoon, to make the most of the natural light. This way, you can wrap up your wedding portraits just as the sun begins to dip behind the snow-covered mountains.
Winter weddings also offer the opportunity for unique activities. You can enjoy skiing, sleigh rides, or snowshoeing, adding an adventurous twist to your wedding day.
Winter Wedding Venues in Colorado
While many venues close for the season, there are exceptions like Spruce Mountain Ranch, a year-round gem located in Larkspur, Colorado. Devil's Thumb Ranch, nestled against a backdrop of blue skies and white peaks in Tabernash, Colorado, is another stunning winter option.
Given the colder temperatures, winter is also a suitable time for planning an urban chic wedding or elopement. Venues like the Ramble Hotel and Union Station in downtown Denver offer this with a sophisticated and intimate ambiance.
For my brave-of-hearts, winter is an absolutely beautiful time for an elopement. Picture the minimalist beauty of Lake Dillon near Breckenridge, Colorado, with its snow and ice-covered landscape, as an ideal spot for your winter elopement. Or even consider a charming Colorado ski town. If you're looking for an elopement indoors or a combination of both indoors and natural settings, a cozy Airbnb or VRBO cabin can provide an authentic and intimate setting, ensuring warmth and comfort.
A winter wedding in Colorado may require some extra planning and a few more layers, but the snowy peaks and the quieter pace of the season create a truly memorable backdrop for your special day.
Spring Weddings in Colorado
Spring in Colorado, spanning from March to late May, offers its unique appeal, even though it's known for its unpredictable weather. Locals humorously refer to it as 'second winter' due to its sporadic snowfall. In fact, March often claims the title of the snowiest month in Colorado, bringing along some muddy challenges. Late-season snowstorms, like the occasional "Mother's Day snow," are not unheard of.
Despite these quirks, spring marks the beginning of Colorado's mountain passes opening up, a transition that becomes more noticeable around April.
Spring Wedding Venues in Colorado
When planning an outdoor spring wedding in Colorado, it's wise to have a solid backup plan in case of inclement weather. Venues like the above-mentioned Spruce Mountain Ranch, with its spacious indoor areas, and Arrowhead Golf Club, located in Littleton, Colorado, offer both breathtaking outdoor views and indoor alternatives.
For those contemplating an elopement in Colorado during spring, opting for locations like Rocky Mountain National Park, Boulder, or the foothills rather than the ski towns along I-70 is highly recommended. These settings provide a more reliable and picturesque backdrop for your special day during this transitional season, particularly due to the increased risk of avalanches causing road closures.
Colorado: Your Ideal Wedding Destination Year-Round
In Colorado, the perfect season for your wedding is a matter of personal preference, allowing you to capture your most epic adventure yet in a place that feels like 'you'. Each Colorado season bears its own unique character, and there's no wrong choice when it comes to celebrating your love with your partner.
Whether you're envisioning an authentic and rustic fall ceremony, a vibrant and colorful early summer celebration, a serene winter wonderland, or a transitional spring or late summer affair, Colorado has it all for the wildly in love.
Your love story is unlike any other; it's authentic and unique to you as a couple. You deserve a wedding day that honestly reflects you and your partner. If you need assistance planning your wedding or elopement, don't hesitate to reach out. Together, we'll decide where to begin your journey together as a married couple, creating a gorgeous gallery and memories that will last a lifetime.